RIT KGCOE Website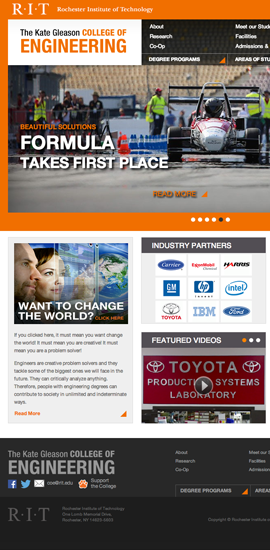 This was actually a project I completed about a year ago, but we decided to revisit it to update the site and add responsive features - try the site on a smartphone, it's excellent!
The layout was designed in house and I did 100% of the development work as usual. The old layout dated back to 2002, so it was obvious this site needed a refresh! It's amazing how much different the web looks, now.
The KGCOE website was the first of a new family of websites - or a group of websites with a similar look and feel. The layout was adapted for several more Engineering websites at RIT, including Computer Engineering and Mechanical Engineering. These sites also share some content - Staff and facility listings, for example - and that was interesting to put together.
Overall, I'm pretty happy with how the site came out, and working with the school's Engineering department was great!